Jesse Kooner
Dev Diary #57: Party on the Beach
Updated: Jul 24, 2020
Caption: Progress update with new songs! and new gifs! and subtle hints at the future! and featuring our friends over at Skookum Arts!
Hello again everyone!
If the summer weather is hitting you hard, I'm sure you'd love nothing more than to visit a tropical paradise. One with pristine beaches, plenty of attractions, and an army of card game enthusiasts. Unfortunately, a place like that may be hard to find. Lucky for you, that perfect place is within reach in Luckless Seven!
Caption: Found the perfect spot for a beach party!
Caption: Join the mailing list! We send out emails approximately once a month with the latest happenings and dev diaries! Work continues to progress well for Neropolis. We're continuing to make changes to the city based on feedback we've received over the past couple weeks. 
Caption: The dialogue system continues to advance! In the next couple of updates we will show off the even newer-UI look for the dialogue system and the choice/response menu.
Caption: Wishlist Luckless Seven on Steam! Don't miss the release discount when it launches!
Besides work on the environment, we've also been busy populating the city and making it the most NPC-filled place we've made yet! Neropolis will feature tons of people you can battle for practice, money, or cards. The most challenging opponents can, of course, be found in and around the casino.
Caption: The journey to Neropolis will have you see the sites, meet interesting locals, and then CRUSH THEM IN BATTLE.
On the music side, we've also whipped up a new victory and defeat theme to play at the conclusion of battles. Our composer Brandon has been cranking tracks out like crazy, so if you haven't checked out his SoundCloud in a while, be sure to catch up on his newest masterpieces!
Caption: Just non-stop victory! All the Ekosi Cards! All the Monies! And All the Stars!
Caption: Join the L7 Discord! Get in here! The water's fine!
Outside of our game, we wanted to do a shoutout to our good friends over at Skookum Arts. This small team of talented developers are working on an amazing game called The Pedestrian. The game is a 2.5D side-scrolling platformer where you solve puzzles in an environment where you move through signs (you'll get the gist of the game after looking at one picture).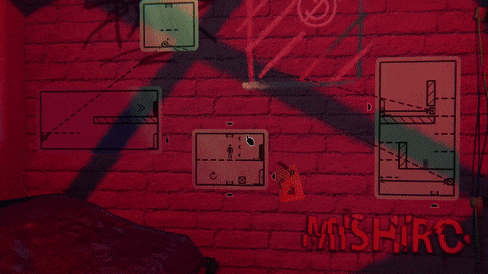 Caption: GIF: The Pedestrian by Skookum Arts. Fantastic game with many beautiful environments.
Jesse had the recent pleasure of making a trip to their studio in Waldo (where's Waldo? It's near the center of...), Ohio (another Ohio game dev???). The fine folks at Skookum have a small, cozy area in the woods where they are making the finishing touches to their game.
Caption: Jed Lackey (left, Programmer) and Daniel Lackey (right, Artist) at Skookum Arts.
Caption: Joel Hornsby (Designer) with his beautifully decorated desk at Skookum Arts.
Caption: Joel Hornsby suited up and ready to design.
Caption: Daniel Lackey working on one of The Pedestrian environments.
We've been watching The Pedestrian over the years and it's definitely one of our most anticipated upcoming games! If you like puzzles or side-scrollers, be sure to check them out. They also have a short demo (20-35 minutes) on their website and it's a fun play!
Caption: GIF: Travel and platform through beautiful environments and signs while solving mind-bending puzzles. As always, thanks for reading and we'll see you next time! Jonathan
Download the latest Luckless Seven demo on Steam | Itch.io | GameJolt | IndieDB Also, join our Discord and Mailing List!
Written by Jonathan Lee, Edited by Tyler Clementi, Pictures by Jesse Kooner Previous Devlog #56: Time For Change